Chronology of PGDIS Past Meetings:
---

PGDIS Annual Meeting, Belize: February 5-7, 2009

---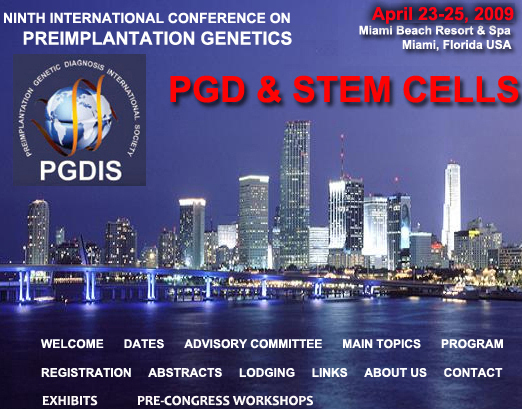 Ninth International PGDIS Conference:
Miami Beach Resort and Spa
---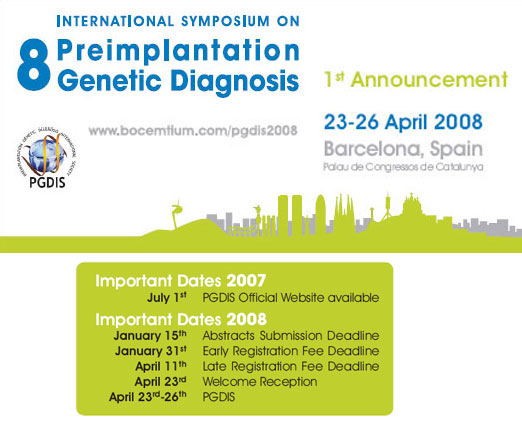 Venue:
Palau de Congressos de Catalunya
Av. Diagonal, 661-671
08028 Barcelona, Spain
www.pcongresos.com
The PGDIS on INTERNET:
To receive more information about the congress contact
us at pgdis2008@bocemtium.com or include your
e-mail address directly on the congress official website:
Technical Secretariat:


Mr. Jaume Boltà
Carles Riba Street, 32 2º 2ª • 08205 SABADELL, Barcelona, Spain
Tel. +34 93 720 91 89 • Fax +34 93 720 92 40
pgdis2008@bocemtium.com

PGDIS Annual Meeting in Belize (February 15-16, 2008)
"Molecular Reprogramming and Derivation of Individual and Disease Specific hESC"
Reserve your chair today in beautiful belize: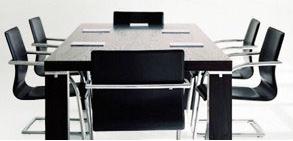 www.pgdbelize.com
Meeting Venue:
RGI-Belize, Don Quixote Club
(Corozal District) Belize, Central America


Phone: (773) 472-4900
Fax: (773) 871-5221
email: mail@reproductivegenetics.com
PGDIS Annual Meeting in Belize (February 1-7, 2007)
"Nuclear Transfer and Reprogramming"
Reserve your chair today in beautiful belize: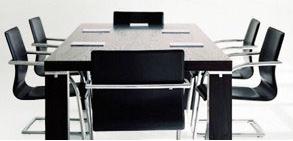 www.pgdbelize.com
Meeting Venue:
RGI-Belize, Don Quixote Club
(Corozal District) Belize, Central America


Phone: (773) 472-4900
Fax: (773) 871-5221
email: mail@reproductivegenetics.com
---
Preimplantation HLA Typing & Stem-Cell Transplantation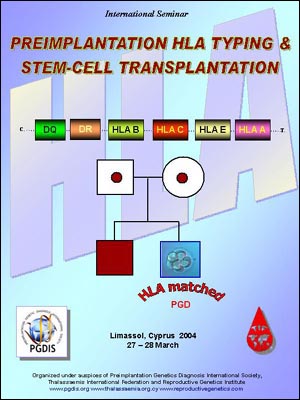 click to open or save the Program and Abstracts PGD_HLA Cyprus 2004 document
---
visit the web site
Fifth International Symposium on Preimplantation Genetics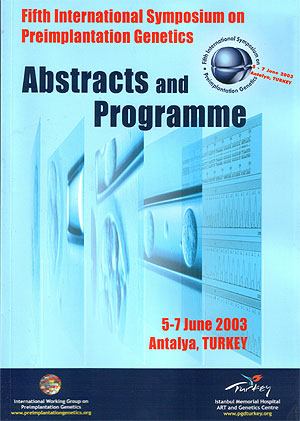 Sixth International Symposium on Preimplantation Genetics
19 - 21 May 2005, London, UK
MAIN TOPICS
IVF, PGD and STEM CELLS
DNA and Reproduction

IVF Today

PGD and The Human Embryo

Male Infertility

Reproductive Endocrinology

Donaiton and Sharing

PGD for Mandelian Conditions and Preimplantation Nondisease Testing

PGD for Chromosomal Disorders and its Impact on IVF

Stem Cells, Reprogramming, Gene Expression and Imprinting

Pregnancy after IVF and PGD

Modern Ethics: Celebrating or Restricting the New Technology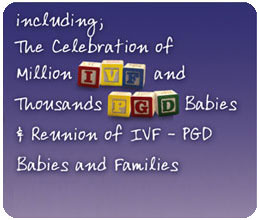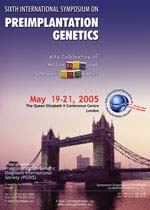 Abstracts: Sixth International Symposium on Preimplantation Genetics (19-21 May 2005), London, UK (RBM Online, Volume 10, suppl. 2, 2005)
NUCLEAR TRANSFER & REPROGRAMMING PGDIS Annual Meeting BELIZE 2-5 FEBRUARY 2006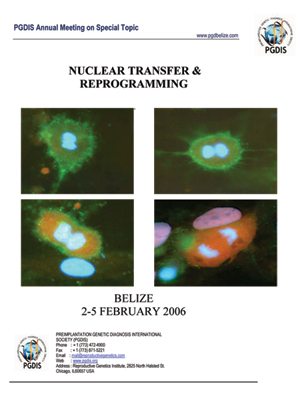 ---
2007 PGDIS Annual Meeting
Date and Venue
Strand Hyatt Hotel, Melbourne, Australia, 13-15 June, 2007